RAVEN
CH. TARAGWYN'S MYSTICAL RAVEN
CGC TDI RN HIC TT
Sire: CH SHELKON'S A COOL JAVA BLEND
Dam: CH TARAGWYN'S STRAWBERRY HILL
Bred by Joy Muller
Whelped: 01/01/2005
CHIC #42124
HIPS- GOOD RO-67856G26F-PI
ELBOWS-LEFT NORMAL/ RIGHT DJD II
CARDIAC- RO-CA2410/15F/C-PI
EYES- RO-6158 (7)
AKC DNA# V383703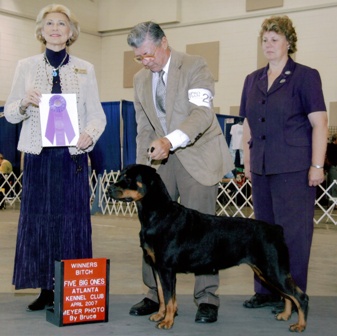 WE HAVE BRED RAVEN TO BISS CH WINCHESTER'S DUCCIO DI VERANO. PUPPIES DUE OCT . 2008
JUDGE-MS. BETTY REGINA LEININGER
HANDLER- CHARLIE O'HARA
BREEDER- JOY MULLER
RAVEN'S 1 ST MAJOR- 5 pt.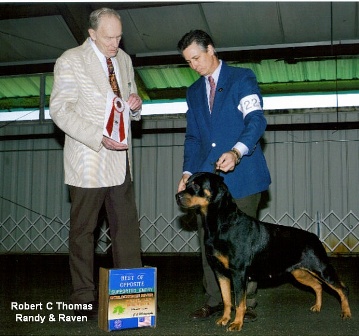 RANDY & RAVEN WINNING BOS IN FEB,2008.
HANDLER- RANDY MCATEER
Achievements:
CGC-AUG.2005 AT THE AGE OF 7 MONTHS OLD
TDI- FEB 2006
RN- RALLY NOVICE APRIL 7.2007 RECEIVED HER FINALLY TWO LEGS AT THE
NATIONALS IN ST. COULD.
HIC- BASIC HERDING INSTINCT APRIL 14, 2007
TT- TEMPERAMENT TEST DEC 2, 2007 TT-4046-RO
5 PT MAJOR- MS. BETTY REGINA LEININGET 04/14/2007
4 PT MAJOR- WILLIAM J FARNAN 06/22/2007
4 PT MAJOR- ROBERT J SHREVE 06/23/2007
4 PT MAJOR- DR. ROGER S PRITCHARD 12/14/2007
WENT WINNERS BITCH AND BOS TO MAKE IT A MAJOR.
BOS- MRS. LENORA RIDDLE 12/15/2007
BOS- ROBERT C THOMAS 02/24/2008
BOS- BETTY CLINE 06/21/2008
Pedigree

Parents
GrandParents
GreatGrandParents

SIRE MULTI V-1/AOM_BISS CH SHELKON'S A COOL JAVA BLEND

HT CS CDX RN BH TT AD CGC HIC
GOLD SIRE


MULTI-V-1, MULTI BISS A/C CH VON BOYLAN ANTONIO BANDERAS SchH III BSTAD TT CGC

RO-55812G

MULTI V-1 ARV SIEGER AM CH CASSIUS LAS SchH III BH AD BST CGC ZtP KORUNG

RO-41685G

SELECT CH FINE'S CIARA VON COVENANT CD RTD

RO-405926 RO-EL1350

CH SWEET SHELBY VON ROTTWOOD TT CGC RTD

RO-50027624F RO-EL1701F24

CH MARLO'S RJ BAER C ROME

RO- 23102G

CH LOTHLORIEN HEIDI OF ROTTWOOD CD

RO-28237G

DAM

CH TARAGWYN'S STRAWBERRY HILL HIC

BISS AOM-MRC AM/CAN/UKC CH ETERNAL MOON LORD OF THE RING CGC TDI TT CS CI CGN AM/CAN CD RN

SELECT AM CH FULL MOON'S AS GOOD AS IT GETS TT CGC

RO-39353G24M

U-AGI RADIO RANCH ETERNAL NOTARA CGC TDI
TARAGEYN'S PRINCESS ZARA
AM/CAN CH ROXER'S TROUBADOR V ACCUSHLA
TARAGWYN'S HIGH HOPE